THERESA JOHNSON, artist - illustrator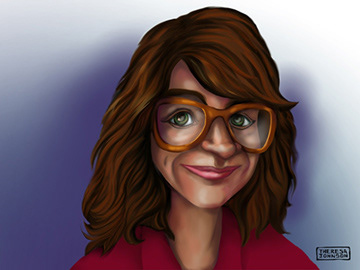 _______________
I grew up on a farm-ranch in Northeastern Montana with four brothers and four sisters. I was the youngest and when my siblings were at school I had plenty of alone time to enjoy quiet explorations of my homestead. My imagination was my favorite companion.
Before I was old enough to express myself through written word, I translated the world around me through hand drawn pictures. My early artistic expressions were expressed, in crayon, to my mother's dismay, on the walls of my bedroom closet. My mom then began providing me will loads of scrap paper upon which I would draw pictures in pencil, ballpoint pen or crayon. When I was 8 years old, one of my illustrations was published in the popular children's magazine Hi-Lites. It was a sketch of the Titanic sinking.  
During my grade school years, my personal projects shifted into the graphic design realm. I would create, by hand, mock up album covers, greeting cards and a family newletter. My older siblings appreciated receiving the periodic newsletter while they were away at college.
There were no formal art classes available in the small rural community where I attended grade school and high school. It was at Montana State University Art School where I received my formal art education. I graduated MSU-Bozeman with a Bachelor of Arts degree with emphasis in Graphic Design.
After college graduation, I married my college sweetheart and we moved to Portland, OR. I worked as production artist and desk top publisher until we started a family. While raising our two sweet babies, I painted oil portraits for clients. After 17 years in Portland, we moved across the Columbia River to Vancouver, WA. 
Now that our children are grown, I've been able to throw myself into digital illustration and visual storytelling. My favorite illustration software includes Adobe Photoshop, Procreate for iPad Pro, Clip Studio Paint, Adobe Illustrator and InDesign. 
My recent illustration projects include children's books and young adult books, fiction and non-fiction book cover art, concept and prop art for advertising, and table top game art.
I am passionate about character design, concept art and caricature-portrait painting. I also very much enjoy editorial illustration.
If you are interested in contracting my services for your next project, send me your project details via
Contact Form
. I would love to hear from you!
_______________________________
Theresa earned her Bachelor of Arts degree from
 Montana State University and has worked as a contract artist for over 20 years.
Theresa Johnson is the illustrator of the Rojo The Llama Children's Books: Rojo, The Perfectly Imperfect Llama and Rojo, Where Is My Hair. Theresa has also illustrated the soon to be published The Kite That Touched The Sky and Montana Memoirs. 
When Theresa is not working on client projects she enjoys working on personal art projects in both digital and traditional mediums. Theresa also enjoys traveling with her husband and children.